Archive Racks – Archive Shelving Systems
MetalSistem Super 123
The use of galvanised steel ensures the durability of the Metalsistem 123 system shelves. The structural components are produced from 3.1 certified high tensile structural steels in accordance with the EN10204 standards.
The super1, super2 and super3 steel shelves are fully removable and expandable.
Metal frame shelves make use of strong material (all parts are made of high-grade steel) and specially shaped profiles that make the shelf system of high strength and maximum carrying capacity. Because of this, a combination with mezzanine-flooring is also possible.
Noordrek Service: With our configurator you can design and order your own metal frame online! Design and order >>
Mezzanine Floors, intermediate floors, stairs and other accessories can be combined as desired.
The Noordrek Metalsistem shelves have the capacity of 205 kg per frame.
German TÜV Product Service – Austrian Standardization Institute.
Warehouse space must be used as efficiently as possible. It is important not only to use the area of ​​the warehouse but also the height. In order to achieve this, the Metalsistem '123 shelves' is the right choice. This shelter is a fully European quality product, which is recognized by the leading agencies such as the German TÜV Product Service and the Austrian Standardization Institute in Vienna.
The Super 1-2-3 series is a highly versatile product satisfying the broadest needs of light storage requirements. In its standard configuration it is particularly suited for archive storage and domestic uses; enriched by a varied and exclusive array of accessories it adapts itself to a multitude of applications such as; spare parts and tyre storage for the automotive industry, hung garment storage for the fashion industry and small parts stores for goods ranging from plumbing to electrical items.
Thanks to its attractive Hi-Tech design, protected by an international patent, the Super 1-2-3 series is also suited to environments which are open to the public such as shop and office furnishing.
The Super1, Super2 and Super3 products are completely boltless, interchangeable and extendable.
Storage space is valuable. Efficiency per cubic meter is the overall motto. A functional storage depot that also allows for economic work is very important.
In order to optimize your storage depot equipment we offer a broad range of doors, front and rear panels, trays und windlass girders. Additionally, packing tables and output barriers belong to our product assortment. All products can be individually adapted – exactly as you prefer it.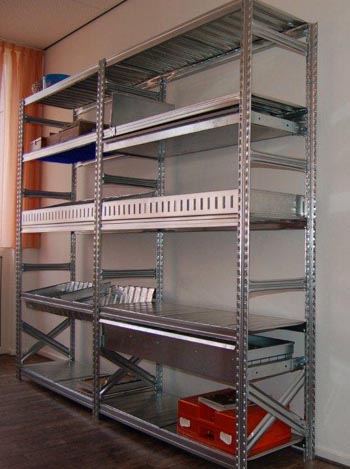 In order to complete your shelves, we offer you a wide range of:
– lockable doors
– headwalls
– load
– Modular Trays
– divisions