Stairs for Mezzanine Floors.
Noordrek BV supplies standard C-profiles for the stairs of the mezzanine floors. The choices you have are a 45° stair (steep stair) or a 35° stair (lazy stair)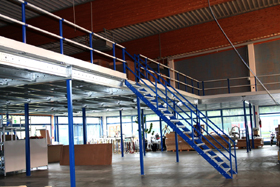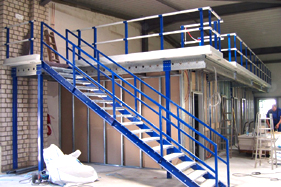 Of course our stairs are also executed in a special manner. This allows you to choose from different steps in terms of the width and material of which the steps are made.
A staircase can also be provided with a stairway or intermediate boards in different RAL-color models.
Special Stairs
In addition to the above stairs we can also supply a wide range of spiral stairs. We also have special steps like the space-saving ladder TYP MZ VH. This ladder can be placed upright against the mezzanine floor after use. Thus, it saves valuable warehouse or pedestrian spaces.
For larger floors, we can supply emergency ladders to meet all standards.