Mezzanine Floor Construction
Profiles of our mezzanine floors are made from galvanized steel.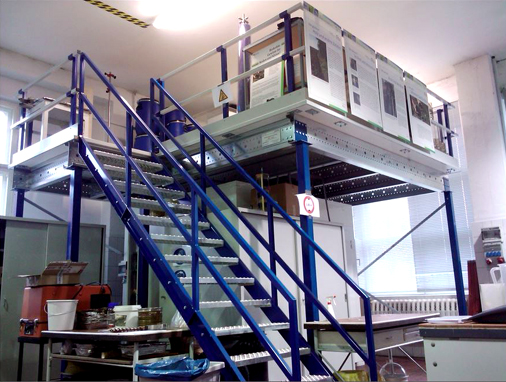 After a structural analysis, the cold-rolled profiles from galvanized steel S390 are used in construction of different heights and strengths. Of course, the length of the profile is also important.
The profiles are assembled with high quality bolts and nuts by means of a coupling plate. The hole pattern in the profiles can be used for easy cable and ducting. The standard hole pattern we use has a size of 66/100 mm.
Other advantages of cold-rolled profiles are:
can realize larger areas
Light in weight , that is why:
Construction is also made lighter and easier
Columns from Tube Profiles
Columns that Noordrek BV uses in mezzanine floors are tube profiles that are made from steel S235. Depending on the force that the column must handle, static size and thickness of the tube are calculated. The same goes for the footplate that comes under the column. It can be that the head plate of the column is provided with a head that is strong enough to carry double joists. Also, on multiple floors, the recording of the head plate and the corresponding footplate is calculated and welded to the desired strength.
Advantages of Tube Profiles:
Big carrying capacity
Light in weight, that is why:
Construction is also made lighter and easier


Normally, columns are sprayed with color RAL5010, but of course we can provide another RAL colors if you wish.
Mezzanine Floor's Decking: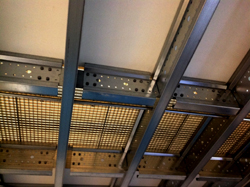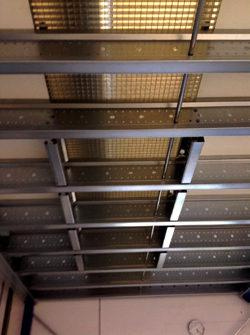 Noordrek has different decking for mezzanine floors:
– Normally we are using natural chipboard with 38 mm thickness. At the bottom the chipboard is white laminated in order to get a good light reflection. The floorboards are furnished with plume, fire classification Cfl-s1.
– If you wish we can also arrange an anti-slip top layer with fire classification Bfl-s1.
– A grid floor is used for any sprinkler installation or where ventilation is needed and this helps for a good daylight utilization.